MO Magicians prepares to host All-City Swim Meet
Donations and sponsorships continue to be collected for the 2018 All-City Swim Meet, but Cottage Grove's Rhonda Holler-Steenhagen isn't resting on her laurels to meet the costs of sponsoring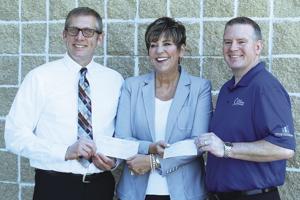 such a huge event.
As chairwoman of the three-day meet that will be hosted by the Monona Swim and Dive Club, Holler-Steenhagen is actively searching out families, businesses and nonprofit groups to support the event.
"It takes well over $100,000 to host this event," she said. "It's the second largest amateur outdoor swim event in the United States."
Fundraising efforts received a double boost last week with $500 donations from the Cottage Grove Chamber of Commerce (it's second $500 contribution) and Dr. David Nelson of Cottage Grove Eye Care.