ALL-CITY SWIM MEET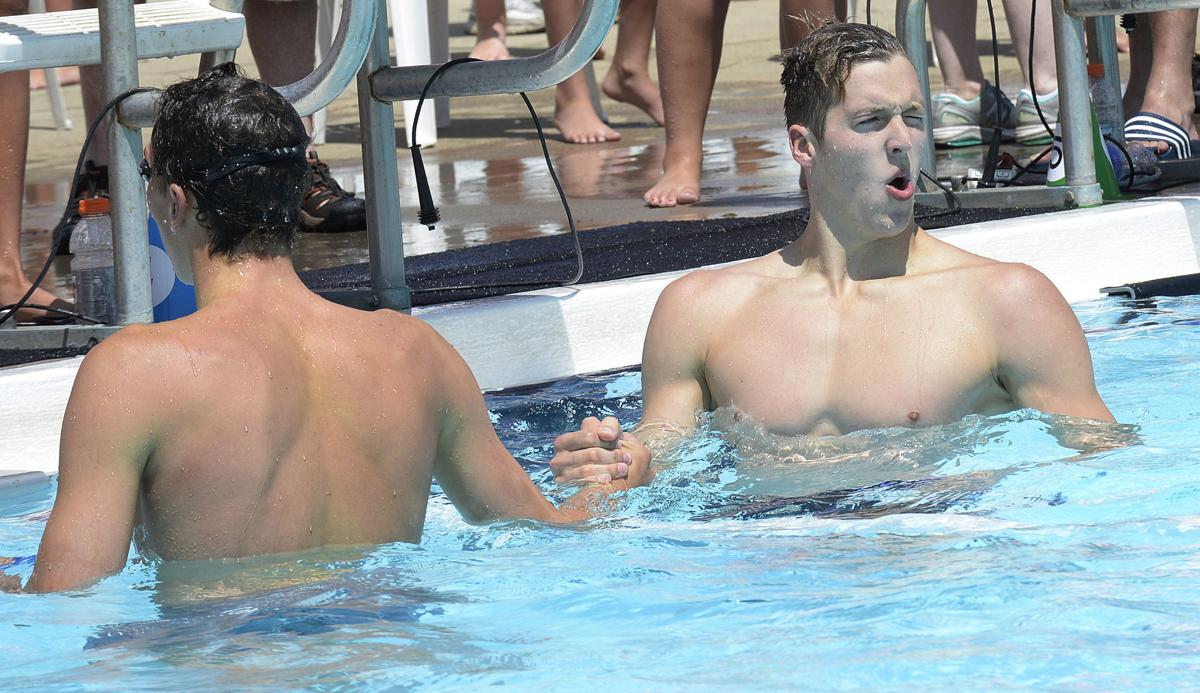 MONONA — When Eric Storms was 4 years old, he brought his toy Matchbox cars to the Monona Grove High School pool while he watched his older sister, Ashley, practice.
His toys could only keep his attention for so long. So he did what any trouble-making 4-year-old might do: he threw them into the pool.
That's when the coach of the now-defunct Monona Grove-Madison Swim Club called Eric out, making him get into the pool with the older swimmers.
And that was the start of a swimming career that has included 14 trips to the Madison All-City Swim Meet, capped Saturday by his record-breaking performances, back in his hometown pool.
"This is where I started, and in a sense, it's where I end my age-group career before I go on to college," Storms said. "So I couldn't be happier to end it here with my teammates that I've gotten to know for 14 years."
During preliminaries on Thursday, he set the All-City record for the 100-meter breaststroke at 1 minute, 5.27 seconds. And he broke that record two days later with a time of 1:01.60 in the final.
Storms also made the record books with a time of :55.11 in the 100 backstroke.
More importantly to him, Storms and his teammates finished first with an All-City record in the 200 medley relay (1:44.21).
"I was so happy because we lost last year in the medley relay, and I really wanted to win it on the home turf and start off the meet strong," Storms said. "Just to finish with all of them on a relay after high school and club swimming, that's as happy as I could be to finish my age-group career."
It was a storybook ending for the entire Storms family.
His parents, Brian and Michele, first met in 1983 at the same pool where this weekend's All-City meet was held. His father proposed to his mother at the pool six years later — so there was little question that all three of their kids would go on to swim there.
The All-City meet's host swim club rotates among the 13 clubs in the group.
It just happened to be Monona's turn when Eric, the youngest child in the family, was diving into his final pre-college competition.
"It's been a joyful ride raising all three of our kids," Michele Storms said. "Even at this meet, it hasn't hit me yet."
The swimming is far from over for the Storms family. Eric will continue his athletic career at the University of Michigan, and his middle sister, Grace, swims at UW-La Crosse.
She came back this year to help coach the Monona Swim Club to a third-place team finish this weekend.
Middleton accumulated 1,888.5 points to win its first All-City title since 2009, putting an end to runner-up Ridgewood's run of three consecutive championships.
Ridgewood had 1,820 points and Monona was third with 1442.5 in the 57th annual event.
"I did better than I thought," Stewart said. "I just kept trying to push myself as hard as I could, and I was really happy with the results."
Jenna Silvestri was the star for Nakoma. In her first year competing in the meet, she broke the records for the age 15-19 200 individual medley (2:16.35) and 100 breaststroke (1:10.19). Both meet records had stood since 1999.
The newcomer wasn't quite sure what to expect this weekend, but she made her mark.
"I thought it was going to be a lot smaller than this," Silvestri said. "Hearing that there were over 2,000 swimmers was insane to me."
In the age 15-18 boys division, Ben McDade broke his record in the 200 individual medley with a time of 2:03.66.
He and Storms were part of the Monona relay team that finished first in the 200 medley, and also broke the record for the 200 freestyle relay in a second-place finish behind Seminole.
"As a competitor, I think I'm always looking for more, but I was happy with how I swam," said McDade, who will swim at Indiana. "Getting to spend one last summer doing what I love with people that I love, it was really special."
McDade and Storms formed a close bond at the Monona Swim and Dive Club over the past 13 years. College will send them on their separate ways, but they'll never forget the memories they made together in the pool.
"It's been a lot of fun to train with him and race against him, and I think we've both grown a lot because of each other," McDade said. "He's grown into a great friend and a great competitor."